Master the classics, explore new territory
4 Advantages of Meinl brushes
There's more to brush life than playing soft jazz
Go to your dream drum space in your head. Are you on a gig in a sold-out theatre, cranking out tracks in a commercial studio or living it up in your state-of-the-art home studio?
This may seem like a simple shot in the dark, but a wild guess on what you're playing with in this happy place—drumsticks.
Sticks hog all the glory, even in your subconscious. But as a drummer, there are SO MANY other tools at your disposal that maybe get overlooked. Of course, we're talking about BRUSHES.
"But brushes are only useful for playing coffee house sets."
"I'm not a jazz player. Why would I care about brushes?"
These are classic conclusions about brushes that are TOTALLY misperceived.
What if you could transform your grooves into a texture-soaked sound that practically paints along with other instruments or vocals?
Our focus at Meinl was simple—make brushes feel just as "at home" as sticks so you can do more than just play softer.
About brushes from Meinl Stick & Brush
Produce a great tone and feel at any volume level, live or in the studio
Fatten up your back beats or tom grooves
Lush sweep tones for soft ballads and jazz
Variety of wire materials for drum set and cajon
Comfortable grips give you a unique feel, touch and sound
Variety of lengths for an easy reach on toms, cymbals and percussion rigs
Play the classics as well as explore new sounds and textures
Here are 4 advantages Meinl brushes can deliver for you:
1. Play with the same power as drumsticks. Sometimes you need punch without the attack of sticks, even at louder volumes. Our durable wire, bamboo and nylon bristles can make your kit or percussion set sing with a rich tone at any dynamic.
2. Fatten up your grooves. Meinl brushes deliver a touch that makes it easy to pull off doubles, ghost notes and heavy back beat accents with a fat sound.
3. Sweep through jazz and ballads with confidence. Our traditional wire brushes respond with ultra-lush lateral sweep tones and bright accents.
4. Enhance your brush comfort level. Meinl brushes are centered around comfort with a variety of handles and lengths that fit your hand just right while providing a seamless reach on toms, cymbals or your cajon.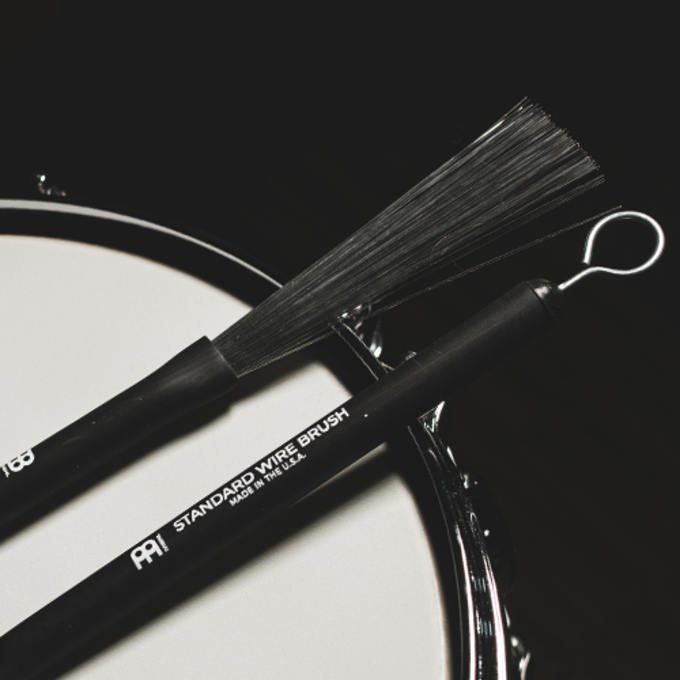 Retractable metal wires and push/pull rod allow you to quickly find the right amount of spread and response. This classic brush style has been utilized by drummers for decades. Finished with a rubber lined handle for a firm grip. Made in U.S.A.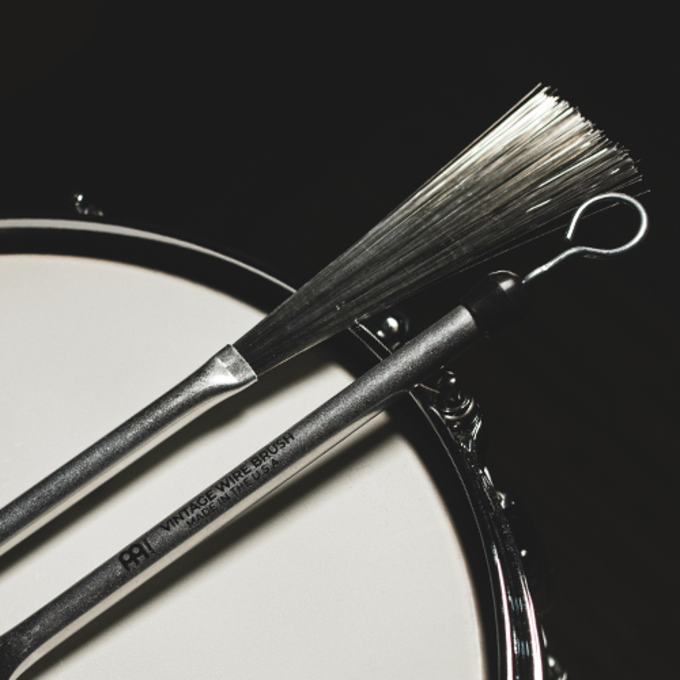 Featuring an exposed aluminum handle, this brush is made without the rubber sleeve most associated with modern brushes, giving it a retro look and smooth feel. Retractable metal wires and push/pull rod allow for easy spread adjustment. Made in U.S.A.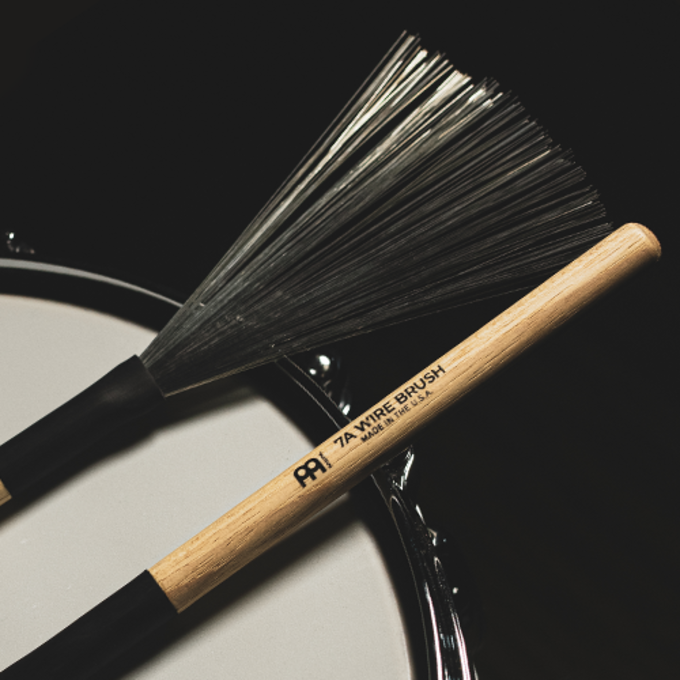 If you need the familiar feel of sticks while playing brushes, our 7A Fixed Wire Brushes have a wood handle with the same diameter as our 7A stick (0.535"). An extra-long rubber protective sleeve tucks the wires securely while guarding the brush against rim shot damage. Made in U.S.A.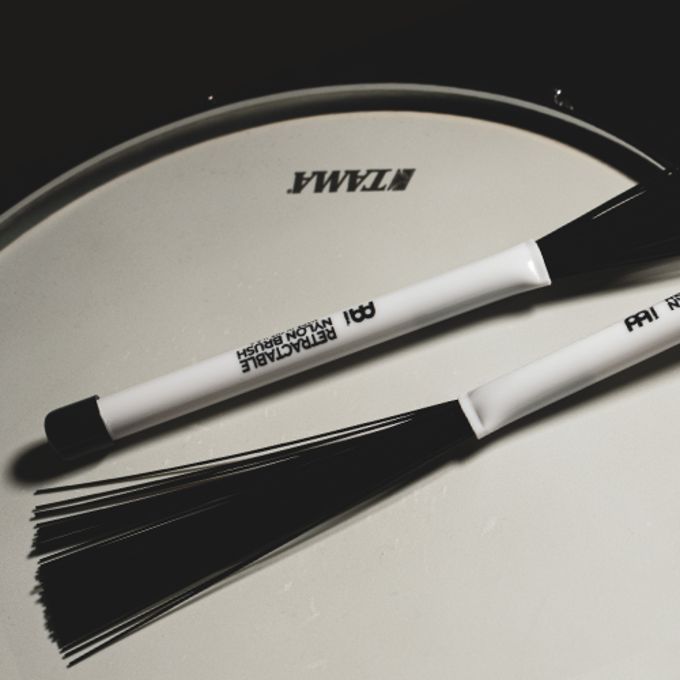 One of our most versatile brushes, the nylon bristles and handle are ideal for both drum set and cajon. The compact handle allows the brushes to fully retract without a push/pull rod to give you more comfort and control on all surfaces with traditional or matched grip. Made in U.S.A.
inventive brushes for both percussionists and drummers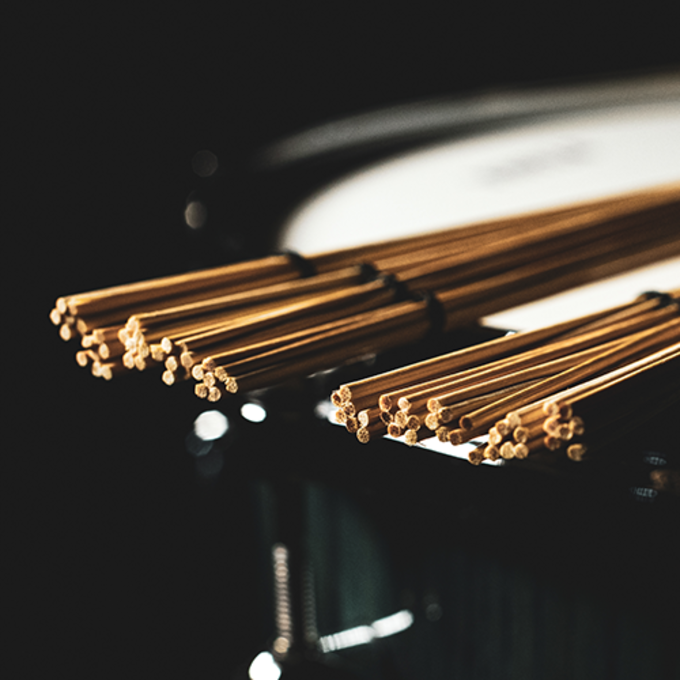 Bamboo brushes
Using bamboo dowels in place of wires gives you the attack of multi-rod bundle sticks with the feel of brushes for a unique touch and sound. You can use the fan shape in sweeping lateral motions or get a full and fat back beat.
The brushes are made up of five small bamboo bundles that spread out in a fan shape. Each bundle has its own adjustment ring, giving you the ability to tweak the amount of spread for a dialed-in touch.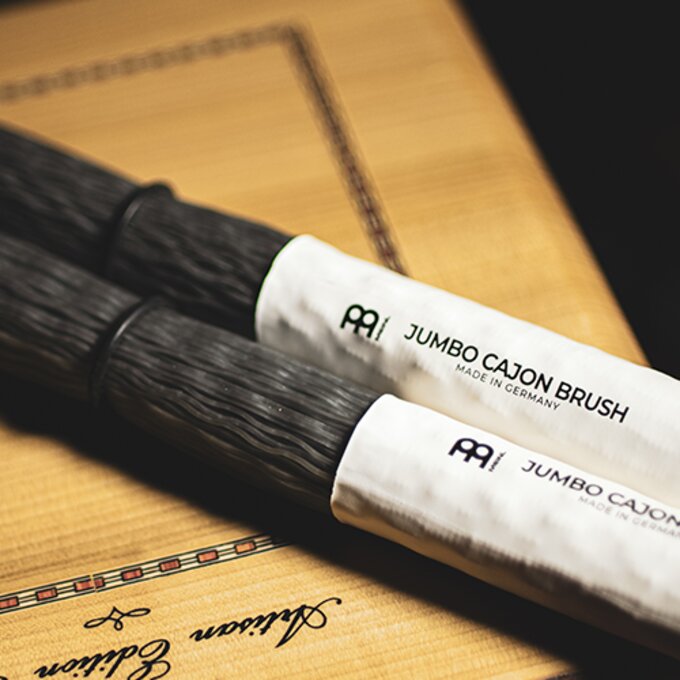 Cajon brushes
Our cajon brushes pull out low bass notes as well as crisp highs to mimic slap tones with your hands. Extra thick polymer bristles create an even attack note and are safe to use on any cajon finish.
These brushes are made to elevate your cajon grooves, especially if you're looking to get a bigger sound out of your instrument.
Adjustable rings alter the amount of punchy bass and attack.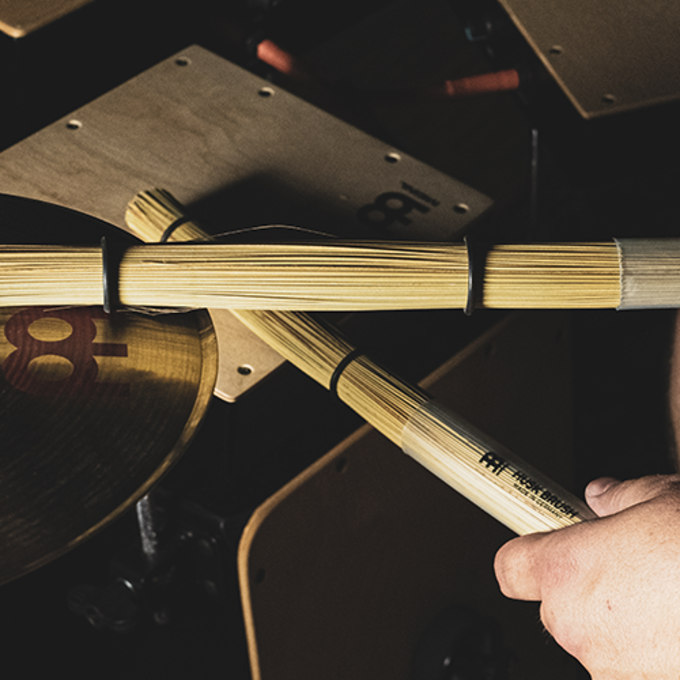 Cajon Husk Brushes
Lightweight straw material bundled together creates a unique blend of sound between brushes and rods.
Our Husk Brushes can be used on all types of percussion instruments from cajon to full drum kit.
With a reduced attack, these brushes produce a thick, low-end thump on all kinds of drums.