Drumsticks are the most important tool for any drummer.
They bring out the beautiful tones of a cymbal or the sensitivity of a snare drum, and yet, they are a very personal choice. Today, a wide variety of models, sizes and types exists, and finding the right fit can be overwhelming. Meinl's solution was to create a focused line of high-quality sticks with clear differences in the framework of the sizes most commonly used.
Have you ever played two different sticks on your ride cymbal and noticed the sound change when you swapped the sticks?
Many factors go into the reason this happens, and the R&D team at Meinl invested many hours in testing these differences. They decided to craft their sticks from a cymbal player's perspective so that every stick sounds great on cymbals first. After all, making cymbals has been the family business for a long time.
What does that mean when you are buying a pair of 7A's?
Starting with the Standard series on a ride, you hear the traditional acorn tip bring out the highs for the crisp slap of attack. Switching to the Hybrid series (featuring an acorn tip cut to barrel length to create the hybrid shape), you notice the cymbal responds with a darker tonality from increased mid-frequencies and the attack changes to a knock. This large difference in sound comes from making one small change to the tip. Knowing a stick's tonal response will help you refine your sound even further.
Have you ever found your favorite stick model to be too light or too heavy when buying a new pair?
The Meinl solution was to add a new step to how sticks are manufactured: weigh and sort the raw wooden dowels into designated models first.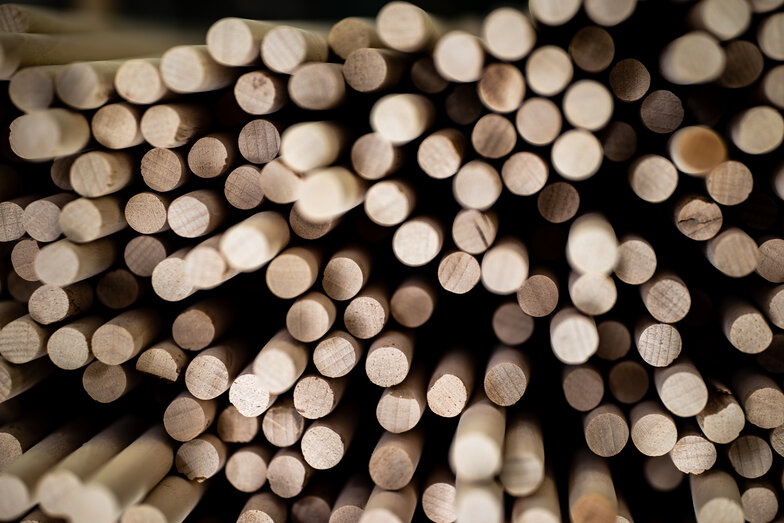 Before being turned into sticks, the American Hickory and North American Hard Maple comes in the form of square dowels. Each dowel is shaped into a stick with a precise profile by computercontrolled cutting blades. By sorting the raw dowels first, only lightweight hickory becomes Big Apple sticks (which are great for fast ride patterns) and likewise, dowels with the most weight will become the Heavy series (which features increased diameters and thick tapered shoulders for endurance and heavy hitting). The final result is that your favorite pair feels the way you expect, every time.
Finally, Meinl sticks are proudly made in Germany.
This means taking the time to check the quality at each point in the manufacturing process so that the Meinl family feels confident putting their name on each stick.

– Made in Germany –
– Weight and Pitch Matched –